Posts: 2
http://kag2d.com/en/
Build your castle!
Destroy your enemies!
Conquer the world!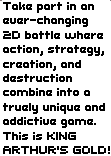 --What the press thinks:
---An Essential Free Indie Game
---— G4TV
---One of the 10 Most Promising Games in their alpha stage
---— IndieMag
---Best Indie Strategy / Role-Playing 2011
---— JayIsGames
---Definately worth a try!
---— RockPaperShotgun
Gameplay!(Amazingzzz)
http://www.youtube.com/embed/rh52OahYxIw
12,366 bought the full version
167,590 Registered Warriors
Best game eva.
I would give this game a 5................................... OUT OF FIVE!